Nanosys, the Quantum Dot company, today announced that it is completing the calendar year with record-setting shipments. The market for displays based on the Nanosys' proprietary Quantum Dot technology entered a new phase of rapid growth in 2019 with shipments of the company's Quantum Dot materials increasing by more 50% compared to the prior year.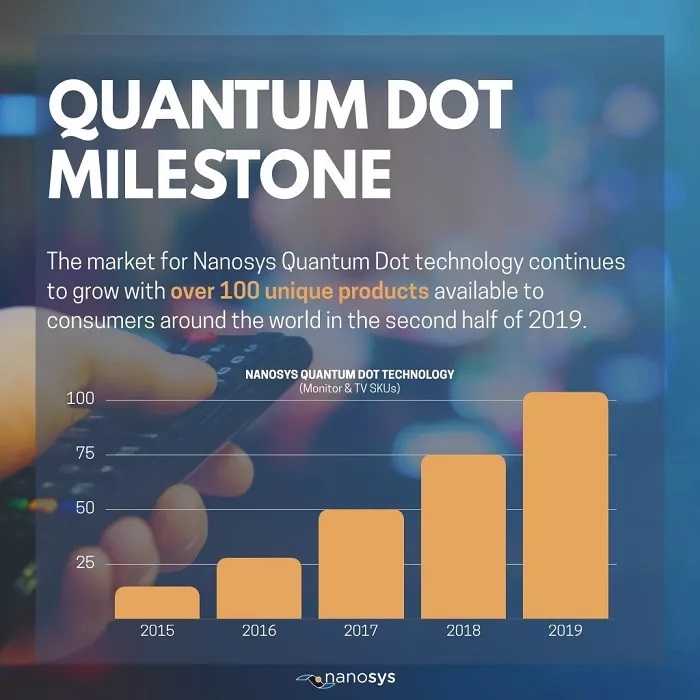 More Quantum Dot products means more Quantum Dot materials sales for Silicon Valley-based Nanosys. The company's market-leading technology can now be found in over 100 consumer products in 2019.
More Quantum Dot products means more Quantum Dot materials sales for Nanosys. During the second half of 2019, over 100 unique display products with Nanosys Quantum Dot technology inside were available on the market. These products included televisions and monitors from top brands in major markets around the world, most at affordable price points well below $1,000.

The list of products including Nanosys Quantum Dot materials is expected to continue growing over the next several years as TV makers waterfall the technology throughout their lineups and the first devices based on Nanosys next-generation Quantum Dot Color Conversion materials begin to enter the market.

"2019 has been an incredible year of growth for Quantum Dots," said Russell Kempt, Nanosys Vice President of Worldwide Sales and Marketing. "Increased traction in the mainstream TV market drove record demand for our Quantum Dot materials this year. We expect this trend to accelerate in 2020 with expanding LCD TV adoption and the introduction of new Quantum Dot Color Conversion products that will further establish Nanosys technology and market leadership for the foreseeable future."
Read the original article on PR Newswire.