Formulated using Mechnano's carbon nanotube technology (CNT), Tough ESD is designed to yield vat polymerization 3D printed parts with enhanced impact resistance and isotropic ESD properties. According to the firm, these qualities "open the door to new applications for AM," particularly in the creation of parts that need to be tough and static dissipative, while also featuring a smooth surface finish.


"Our latest innovation builds on our original effort, unleashing CNT potential in additive manufacturing materials to achieve extraordinary performance," says Mechnano President Bryce Keeler. "Additive manufacturing hardware and software continue to advance, so we are excited to offer additional material solutions that are compatible and expand the scope of AM applications."


Mechanano's CNT technology

Founded by entrepreneurial duo Scott Gillette and Steven Lowder, Mechnano is a start-up that has spent the last five years applying its proprietary technology to 3D printing polymers. In essence, the firm's approach revolves around CNTs, one-atom-thick pure-carbon structures, 10,000 times narrower than a human hair.


While these tiny structures boast a 100 times higher tensile strength than steel, they have proven difficult to manufacture, as they tend to clump together into balls of millions or even billions of tubes. Mechano's process allows these CNTs to be detangled and separated in a way that sees them dispersed across materials and prevents re-clumping.


In practice, the firm says its technology provides materials with an 8% increase in tensile strength, a 200% improvement in toughness, and an 850% rise in tear resistance. As well as protecting its proprietary process with over 120 patents, including those covering the composition of matter, the start-up has brought it to market through its E35A Masterbatch, C-Lite, and Formula1 resins.


The latter, in particular, is notable as the company's first ESD resin that delivers dissipative properties to 3D printed parts without compromising mechanical properties. With its materials, Mechnano targets shielding, radiation hardening, and EMI protection applications in the defense, EMS, aerospace, communications, medical, and transport sectors.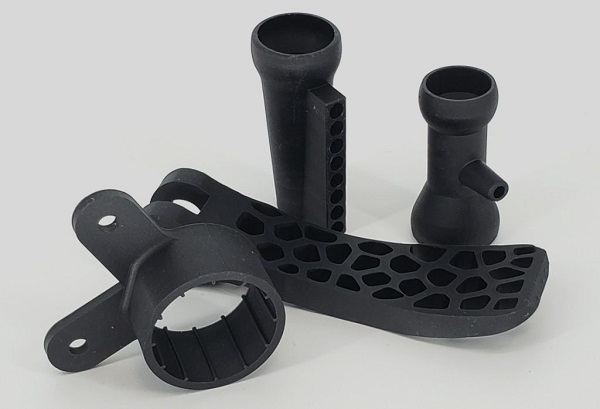 Parts 3D printed from Mechnano's new Tough ESD resin.
A tough new ESD photopolymer

Built around the same technology as Mechnano's previous materials, Tough ESD is a black resin with a urethane methacrylate base, which includes a stable dispersion of discrete functionalized CNTs. These allow the polymer to achieve consistent static dissipative properties while contributing to its enhanced impact resistance.


Compared to its first static dissipative photopolymer, Formula1, a material designed to yield rigid electronics, Tough ESD is better suited to more abusive applications where rigid parts would likely fail. This difference has been borne out as part of Mechnano's internal testing regime, which showed that the latter has a lower flexural strength of 33.19 MPa, but a much higher elongation at break of 42.9%.


Using Tough ESD, the company says it's possible to produce parts that feature these properties while also having fine features and a smooth surface finish, something that's "out of reach for current filament and laser sintering options."


According to Mechnano, another benefit of 3D printing with its material over existing machining or mold tooling methods is that this allows users to iterate on and customize designs "in a fraction of the time." As such, it's said that Tough ESD could be ideal for creating ESD tooling, assembly aids, enclosures, or nozzles. Initially, the material has been released as a white-label resin for interested partners.


New static-dissipative materials continue to enter the market, which enable manufacturers to 3D print electronics parts where static charges would previously have brought a risk of flames or explosions. Nexa3D's new ESD-safe resin was launched last month, with prospective fixture, gripper, assembly aid, and enclosure 3D printing applications.


Introduced just over two years earlier for SLS customers, Sinterit's PA11 ESD material also enables the production of conductive parts with dissipative qualities. At launch, it was said the material could open up a range of new electronics applications to Lisa users, including the 3D printing of casings, connectors or fixtures for use in ESD-safe areas.
Read the original article on 3D Printing Industry.