NBIC+
Convergence Gives Momentum to Nanotechnology
NBIC+ Aimed at Providing Specialized Information in the Field of Advanced Technologies

Mission
The growing number of nanotechnology products, companies, and even trade and industry exhibitions clearly implies that this innovative technology has successfully been commercialized and moved from academia to industry. Nonetheless, it does not mean nanotechnology will no longer affect industry and economy, but rather, it still has a long journey ahead.

During the past millennium, the divergence of technologies has led to the emergence of numerous highly specialized branches of science. Medical science is a case in point; it used to be one comprehensive science with no branches a thousand years ago, but today, a specialized medical branch can be found for almost every organ of the body. However, a new paradigm has recently begun to emerge in technology development strategies, which surprisingly is technology convergence.

Hence, technology is on the verge of a significant change in its path; a strategic shift from divergence to convergence, from specialization to synergy, which undoubtedly will go down in the history of science and technology.

The enormous potential of nanotechnology in being converged with other areas of science, especially with modern and advanced technologies, opens the door to the new developments in economy and industry that can help governments rise to several global challenges.
Artificial intelligence, the Internet of Things, cognitive computation, and quantum computers are among the technologies whose convergence with nanotechnology is confidently expected to broaden the horizons of science and technology.

After two decades since the advent of nanotechnology, it appears that new opportunities have recently arisen for improving the effectiveness of this technology in human societies. The convergence of nanotechnology with other emerging technologies not only does streamline human performance but can also be a real game-changer for various industries.

As a platform designed for providing specialized information in the field of advanced technologies, NBIC+ gathers and publishes news on the latest developments of nanotechnology in convergence with other technologies, particularly biotechnology, information technology, and cognitive science.

One of the main priorities of this platform, which can even be considered as one of its missions, is to explore and cover such aspects of nanotechnology that have to do with business, innovation, and commercialization; mainly because nanoscience and nanotechnology cannot reach their full potential unless they revolutionize the business world with the development and commercialization of radical innovations, which is only possible in convergence with business, innovation, and commercialization.
NBIC+ Sections


1. Latest News
In this section, the latest nanotechnology news gathered by NBIC+ news team is posted in order of release date. Given the importance of innovation, business, and commercialization, covering the news relating to these topics is the section's top priority; however, the most recent scientific advances that profoundly impact on the development of nanotechnology are also covered in this section.

2. In the Media
This section provides the audience with the latest news and events of the nanotechnology world, collected using intelligent algorithms from more than 100 news sources, including news agencies, countries' official websites, etc. These algorithms have been designed to extract and republish the news pieces that are important, but have been posted on websites with a limited number of visitors; thus, this section is an excellent place to receive the news that is rarely covered in various sources.

3. Thematic News
In this section, the news relating to the innovation ecosystem is categorized and published. Moreover, in the industry and market subsection, contents are classified into different categories according to their industrial sector. Subject areas and industrial sectors include:

a. Industry & Market
b. Research & Science
c. Education
d. Policy
e. Safety
f. Society

4. Publications
This section reports on the articles published by different companies, research groups, and NBIC+ content production team.

5. Compass
This section identifies, observes, and analyses trends in nanotechnology, in which the markets of various areas are monitored, and the results are published in the form of reports or industrial minimalists.

Convergence with Technological Areas
NBIC+ gathers and publishes news on the latest developments of nanotechnology in convergence with other technologies, particularly biotechnology, information technology, and cognitive science.

Advertising
Among all nanotechnology websites, NBIC+ stands out, in that it focuses on the development of the nanotechnology business and its major priority is publishing the materials relating to both the business sector and nanotechnology applications. NBIC+ core audience is mainly involved in the nanotechnology business, providing a unique opportunity for you to introduce your products and services to them. Furthermore, NbicPlus is the sister website of StatNano and addresses a large portion of the audience of this nanotechnology statistical reference website, as the users of StatNano's databases are also offered the chance to read NBIC+ news. Besides, the content production team of NBIC+ takes advantage of StatNano's comprehensive databases such as Nanotechnology Products Database (NPD) for developing many original news reports, which distinguish NBIC+ from its counterparts. NBIC+ offers a variety of advertising spaces:
| | | | | |
| --- | --- | --- | --- | --- |
| Type | Dimensions (pixels) | Size (Maximum) | Formats | Monthly rates ($) |
| Leaderboard (Top) | 728w X 90h | 200 KB | jpeg | 495 |
| Leaderboard (middle) | 728w X 90h | 200 KB | jpeg | 375 |
| Side Rectangle | 300w X 250h | 150 KB | jpeg | 295 |
Leaderboard (Top)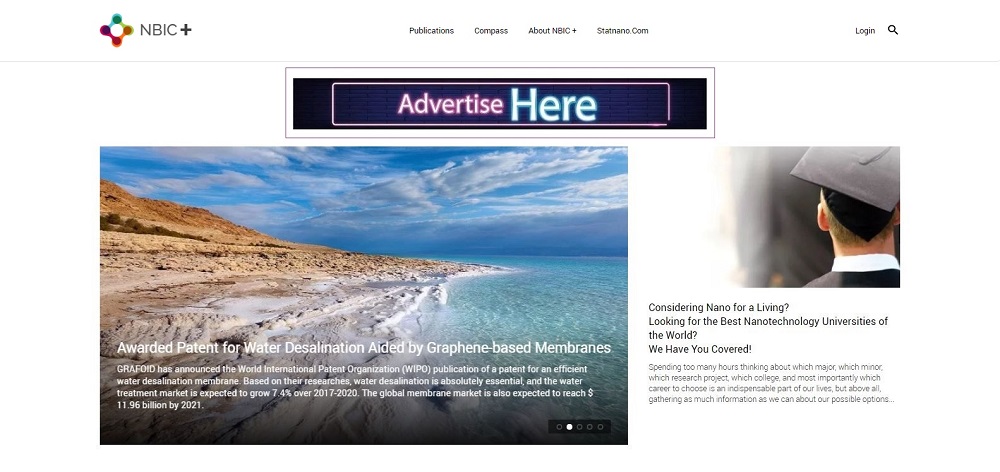 Leaderboard (Middle)

Side Rectangle