The traditional ratiometric fluorescence (FL) probe usually needs to combine different nanomaterials by chemical or physical methods and the manufacturing process is more complicated. While the dual-emission carbon dots (DECDs) can simplify the detection process.

Therefore, it is of great significance to design a simple ratiometric fluorescence probe based on the DECDs for the accurate determination of DA concentration.

Here, a new kind of dual-emission N-doped carbon dots (N-CDs) was prepared by one-pot hydrothermal method with p-phenylenediamineas as carbon source and triethylamine as nitrogen dopant. The synthesized N-CDs show FL emission at 435 nm and 595 nm under 360 nm excitation wavelength.

The N-CDs can be used as a ratiometric fluorescence probe for highly selective detection of DA. This is the first time to report the dual-emission fluorescence carbon dots to detect DA.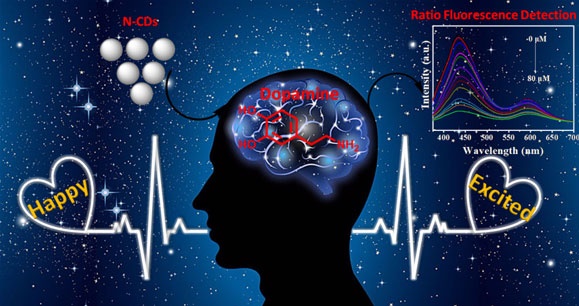 A schematic illustration of Synthesis of nitrogen-doped double-emission carbon dots and ratio fluorescence detection for dopamine, which acts as a neurotransmitter to regulate various physiological functions of the central nervous system.


This work not only develops a new method for preparing dual emission nitrogen-doped carbon dots but also exploits an economic, environmentally friendly, sensitive, and specific DA detection method.

This work was supported by A Project Subsidized the Priority Academic Program Development of Jiangsu Higher Education Institutions (1107047002). The paper can be found in NANO journal.

Read the original article on World Scientific Publishing.